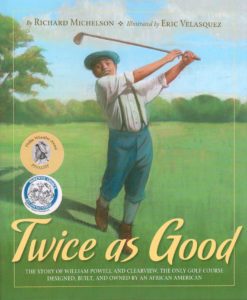 Illustrated by Eric Velasquez
Purchase an autographed copy of this book
Purchase Limited Edition Art Prints
Willie Powell had been told, "If you are going to get ahead in this world, you can't be as good as the white children; you have to be twice as good." He took this advice to heart.
Willie dreamed of becoming a professional golfer, but his accomplishments went far beyond playing the game of golf. Willie was often denied the opportunity to play golf because he was African American. Determined, he decided to build his own course, and welcome people of all color to play golf.
Award-winning author Richard Michelson and award-winning illustrator Eric Velasquez together share Willie Powell's positive and powerful story.
Twice as Good Theme Song, by Les Julian
2013 Harlem Book Fest Phillis Wheatley Award
2012 USA Best Book Award Finalist Children's Picture Book−Hardcover Non-Fiction
2012 Parents Choice Award
Writers Against Racism Interview – School Library Journal: Video Part 1 , Part 2
Overcoming adversity, Bill [Powell] has written his own chapter in our Nation's history … and set an important example for succeeding generations.
—President Barack Obama
Michelson has written a straight-forward narrative spiced throughout with inspirational thoughts. .. A useful title in which young readers can gain an appreciation of a ground-breaking African-American sports figure.
—Kirkus Review
Author Richard Michelson took the true story of a boy who refuses to take no for an answer concerning his dreams and makes it into a child-friendly story of perseverance in the face of racism.
—Terri Schlichenmeyer
An inspirational story.
—School Library Journal